How to Prepare for your First Day at School
Starting school can seem like the most daunting thing ever, especially if your child hasn't been to a nursery prior or struggles in social situations. It is important that, every step of the way, we talk to children about how they are feeling and help them to understand what their life at school will be like.
It's about helping your child to understand that school is a way for them to grow independently, to learn life skills, and make new friends! Reminding your child that everyone is in the same boat is integral to calming their nerves.
Before beginning school, you should receive an information pack from your chosen school. This will tell you everything from drop off and pick up times, what your child's day looks like, what class and/or house they are in, and their uniform requirements. This year, we have worked closely with our customers to understand what we can do to make preparing for the first day of school that little bit easier. That's why we redesigned our price lists to become visual aides for our multicultural customer base. On these lists, you will see a key denoting C (compulsory), O (optional), and / (either/or). This will help you, as a new customer or customer with a child moving schools, to understand what is compulsory day-to-day and what extras are available to you. 
We hope that, by adding images to our price lists, parents can understand how their child is expected to dress. Every price list is cross-referenced with the school's uniform policy, meaning you can have confidence you're buying the right things to start in September. You can find modified versions of these on each individual school's page underneath 'Uniform List'. This downloadable document dictates which items you need to start in September and also has other useful information, too.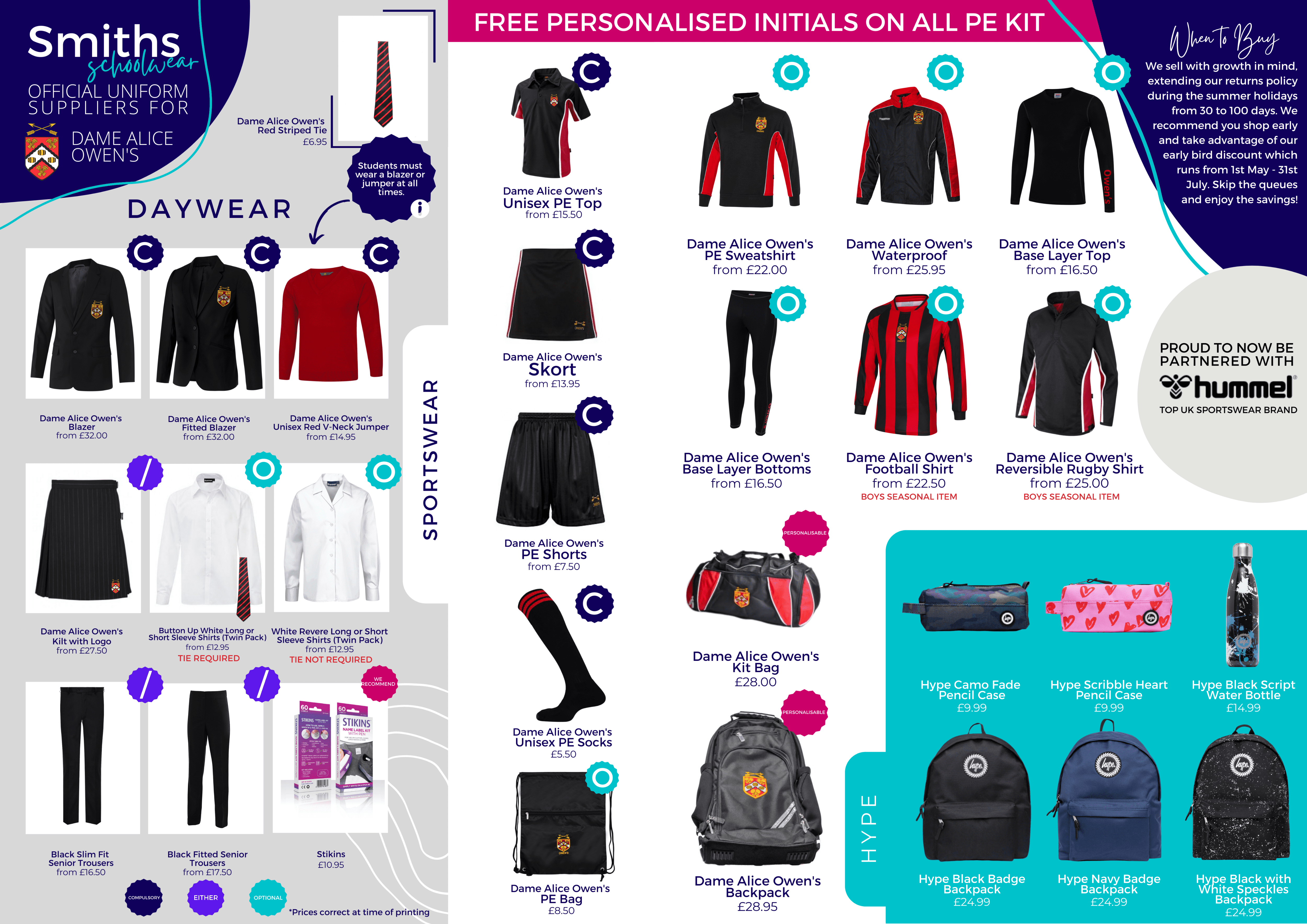 An example of a price list demonstrating the compulsory/optional/either key.
Beyond uniform and mindset, there's a lot more we can do to help our children prepare for life as a student. For example, making sure they are fully equipped with the right stationery and a calculator, if needed, is a great step to reduce those first-day jitters. We're enthusiastic about putting the excitement back into the schoolwear industry. So, we stock all kinds of fun bags, accessories, pencil cases, bottles, and even rubbers, to allow each child to use these accessories to express themselves at school. Partnering with popular companies such as Helix and Hype, we keep our range of accessories practical, functional, and stylish.
Another huge part of starting school is making sure your child has comfortable shoes to wear throughout the day. No matter your budget, there are plenty of places online or on the high street which sell suitable schoolwear. We recommend every child to wear all-black footwear which complies with every school uniform policy.
Lastly, we go back to that information pack. We advise all our customers to go through this with their child where able to so that your child can understand what is expected from them at school and what their day will look like. This can ease some of that separation anxiety at drop off. Joining groups with parents who have children attending the same school or getting involved in the PTA is also a great way for your child to meet fellow students and ease any anxieties.
If you have any concerns about your child starting school, whether you need support with uniform or anything else, our staff members are always happy to help.